Tormented Mutation is a studio album by KidCrusher, released on June 6, 2006 and his first studio release.
It is indexed as the first chapter in the Chronicles of KidCrusher. Recorded in Salisbury, South Australia.
Track Listing
Edit
Warning
Step Into My Mind
Creep (feat. Stash)
Cutting Flesh
Walk Wid Da Dead (feat. Stash)
Intermission
Diary Of A Madman (feat. Stash)
Fuckin Bloody Mary
Sweet Dreamz (feat. Stash)
The Next Chapter (feat. Peter Because)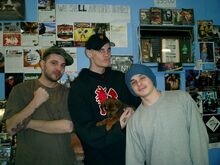 After his first internet album "Light to Dark and Life to Death" went viral with his single "A Dirty Fuckin Murder", KidCrusher discovered a local independent recording studio entitled "The Crypt" owned and operated by Psycho Thugg and Trips. With a book full of lyrics from his past failed rap project Subterra, KidCrusher recycled his lyrics over beats produced by Psycho Thugg. With the rush to meet his own deadline to release the album on June 6th, 2006 (06/06/06), He worked with ex-subterra member "Stash" on almost every song. The album was pressed and released on time for the 6/6/6 release party, but this was only the beginning, the first chapter in The Chronicles of KidCrusher. However it is not the FIRST album by KidCrusher. The album was inspired by Charles Manson, Albert Fish & Ted Bundy featuring samples from iconic horror films.
Trivia; The album was originally meant to be entitled "Stash & KidCrusher - Tormented Mutation" however, due to the lack of availability, KidCrusher finished the album solo. Stash and KC eventually teamed up for a spinoff album entitled "Stoned as a Mother Fucker" however, this would be the last time they worked together. Creep, Walk Wid Da Dead, Sweet Dreamz and Diary of a Madman were originally verses from KidCrusher's work in Subterra alternative mixes feature on Light to Dark and Life to Death with the original Subterra instrumentals.
Trivia; The album cover photo shoot was taken in the same backyard used for the A Dirty Fuckin Murder video shoot, taken by Peter Because. He was highly criticised for using such a simple backdrop/location for his video/photos, however he noted he was so used to using his backyard for activities as he used to be a Backyard Wrestler.
Sweet DreamZ (Single)
Edit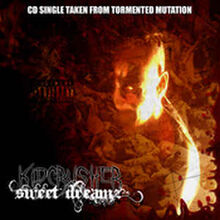 Prior to the album release a single for Sweet Dreamz was released
Sweet Dreamz (Radio Edit)
Sweet Dreamz (Album Version)
Sweet Dreamz (Instrumental)
Diary of a Madman
Fuckin Bloody Mary (Disco Blood Bath Remix)
Death Dream (DJ Nameless Remix)
6/6/6 Release Party
Edit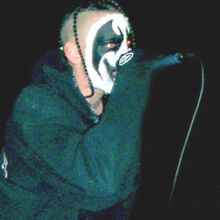 KidCrusher hosted a release party on June 6, 2006 to promote Tormented Mutation. A live performance with Stash & KidCrusher occurred featuring tracks from the album and Subterra tracks. This would be the first time KidCrusher performed live in face paint and didn't take the stage again until 2009 for the Tunnel Runner Down Under Tour.
Community content is available under
CC-BY-SA
unless otherwise noted.