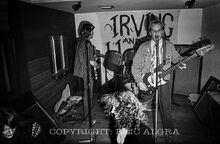 U-Bombs is a new wave/power pop band from Adelaide, South Australia.
Irving and the U-bombs first appeared in 1977 at private parties, anti-nuclear rallies and political/social justice benefit shows before establishing some weekly residencies at various city and suburban hotels. The band grew to a five piece and dropped the 'Irving' from the bands name and subsequently released the single 'Give Me A Medal' in 1978.
In 2013, after an absence of 32 years, the Ubombs started rehearsing, recording and then staged a comeback show in Adelaide. They performed at such venues as the Governor Hindmarsh Hotel alongside such acts as Fear And Loathing, Meat Tray and Black Chrome. 
Current Members
Anando Bharti - Vocals, Bass
Paul Verdant - Guitars, Vocals
Roy Erzinger - Drums 
Ian Thurnwald - Saxophone
Past Members
Paul Tuxworth - Guitars, Keyboards
Mark Cornwall - Bass, Vocals
Tom Cowsill - Drums (1981)
Live At The Marryatville - Cassette (Tomorrow Records, 1977)
Give Me A Medal - 7inch vinyl single (Radio Active, 1978)
The Triple M Demos - Cassette (Radio Active, 1979)
Ubombs Greatest Hits - Cassette (Radio Active, 1980)
'Rejected' b/w 'Automatic' - CD Single (2013)
'Fukushima' demo - CD Single (2015)
Community content is available under
CC-BY-SA
unless otherwise noted.