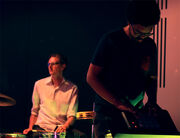 VoiceROM is a creative hip-hop duo from Adelaide, South Australia that formed in 2011.
Biography
Musicians Jarrad Payne and Dylan Marshall (1.1 Immermann, The Shaolin Afronauts) apply live drums and real-time sampling to produce their sound. They have released 23 short albums as of April 2016, as well as several live albums released through COMA. Many of their albums feature cameo appearances from other local musicians from the jazz and creative music scenes.
In 2016 they produced a collaborative album with Zephyr Quartet entitled 'VoiceQuartet' under the artist name ZephyrROM.